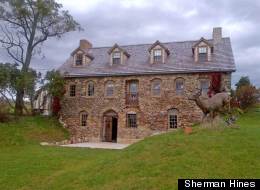 In 1982, a photographer living in Nova Scotia bought a house that was at the time the definition of a fixer upper. Sherman Hines spent just $15,000 on the home, which sits on 105 acres and is thought to be the oldest house east of Quebec City. Then Hines set about restoring the old home, a task on which he spent the last 30 years.
"We drove up and I crawled around in this basement, it was full of mud and debris. I was doing kind of a duck walk around, I couldn't stand up, and I fell in love with it," Hines told CBC News, speaking of an early visit to the property.
In addition to restoring the old home, Hines reportedly pieced together the property's history using old maps and books. According to his research, the property is estimated to have been built around 1699 as a French mission. To this day, the house is still referred to by its nickname, "The Mission."