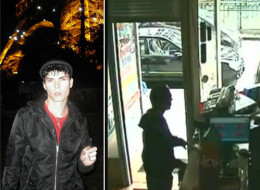 BERLIN - Alleged killer Luka Rocco Magnotta told a judge Tuesday he will not fight his extradition from Germany to Canada, Berlin police say.
Magnotta is wanted in Canada on several charges — including first-degree murder — in connection with the gruesome killing and dismemberment of Chinese national Jun Lin.
Berlin police spokesman Stefan Redlich said Magnotta met with a judge Tuesday in an office at police headquarters, where he was held in a 1.5-metre-by-five-metre cell overnight.
"(Magnotta) did not say anything about the case itself, but (when) asked about whether he would object to go back to Canada, he said no he wouldn't," Redlich said in a phone interview.
Redlich said Magnotta, 29, was later taken by van to another prison around five kilometres away.
Magnotta was arrested Monday at a Berlin Internet cafe following an international manhunt.
The 33-year-old Lin's torso was found last week stuffed in a suitcase outside the Montreal apartment building where Magnotta lived.

Magnotta fled Montreal for Europe after Lin's death